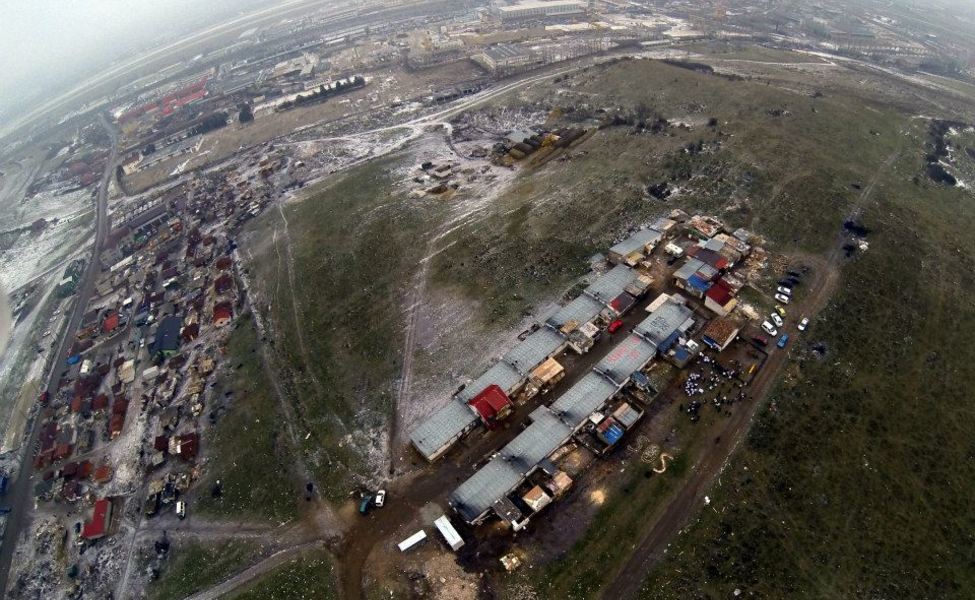 Prije deset godina, 76 romskih obitelji deložirano je i prisilno preseljeno u blizinu odlagališta otpada u mjestu Pata Rât, Cluj-Napoca. Sada su neke od tih obitelji ponovno suočene s rizikom deložacije, čak i iz svojih modularnih kuća u blizini odlagališta otrovnog otpada, bez da im se nudi alternativni smještaj. Njihove nade da će se moći vratiti živjeti u grad u kojem su rođeni i u kojem rade, gdje su se svake godine neuspješno prijavljivali kako bi ostvari pravo na socijalno stanovanje, dodatno su ugrožene. Kako bi se to spriječilo organizirana je internacionalna kampanja podrške. Više pročitajte u priopćenju za medije koje nam je stiglo na mail redakcije:

"81 organizations, collectives and groups, as well as 206 individuals from Romania and other countries demand to stop the eviction process of several Roma families from the modular houses built by Cluj-Napoca City Hall near the landfills in Pata Rât in 2010. Today, 6th of July 2021, we sent our Call together with the signatures to public institutions in Romania, as well as to international human rights institutions and organizations. The text is accessible in Romanian and English on the website of the Social Housing NOW! movement. Our message in short is the following:
We urgently ask You to intervene at the Cluj-Napoca City Hall and personally at the Mayor Emil Boc, to convince him not to do another inhuman act against the Roma evicted once in 2010, to convince him to stop their eviction from the Pata Rât modular houses until he can provide them with a housing alternative, ie. adequate social housing in the city.
Through this press release, we also ask for the support of the press to make visible and stop this injustice, after we asked the City Hall and the Mayor of Cluj-Napoca to do this and we did not receive any answer from him. The problem is quite old. We launched our last appeal about it in June 2020 in a document sent to the UN Special Rapporteur for Adequate Housing.
The families now at risk of eviction have come to live less than 1,000 meters from toxic waste following another wave of evictions of 350 people, who were forcibly moved there in 2010 from Coastei Street in Cluj. There are four young families at risk, with small children, who moved into the vacant rooms of a few empty modular houses called apartments, after living with their parents in other places there for more than 10 years and having no other alternative.Now they don't even have the right to live next to the garbage? Is Cluj-Napoca City Hall driving them out of there, keeping those accommodations vacant? Is this how the public authorities avenge those who sued them for the 2010 eviction, a case that is now at the ECHR? Mr. Mayor, where is the social housing? We demand justice, public investments in social housing, adequate and affordable accommodations for everyone! Enough with forced evictions, stigmatized segregation of Roma and institutional racism!
After a decade spent near the landfill, four families are being sued by the mayor's office, demanding their eviction by Mayor Emil Boc. These families do not want to live in Pata Rât: they have moved into the vacant rooms (so-called apartments) of modular houses because they could not move elsewhere and could no longer live in the 16 m² rooms with their parents, with their children, with their brothers. They entered the empty rooms out of need. What did the town hall do? They ordered their parents to remove these children from their leases, and applied the stigma of "abusive occupant" or "untitled occupant" to them. The city hall also required them to pay a monthly rent to the mayor's office as a compensation because the space couldn't be used. Thus, beyond the trauma of eviction and being homeless, our mayor's office excludes them for their entire lives from being eligible for social housing.
On 30th June 2021, Sz.M.-D, her husband and their two children received an eviction summons from the bailiff Oszoczki Andras, notifying them that in 8 days they will have to leave the apartment where they are currently living, otherwise they are removed by enforced execution "with the help of public force". The family also received another summons by which the bailiff asked them to pay him 2923.20 lei for the expenses of their forced eviction. The family was also called to go to the bailiff's office within 1 day of receiving the notification and declare all their assets and income to him, to ensure that he would receive his "reward" for forcibly evicting them. The executor sent to all family members, including minor children, a separate envelope with all the documents of the case. The family up until to this point has been living in inadequate conditions in a toxic environment. From now on, both the parents and their children will become homeless with possible debts as a result of the eviction expenses to be paid to the bailiff.
The rest of the families at risk of eviction are in similar situations - read about all four cases in the call published on the Social Homes NOW! page. Instead of improving the housing situation in the city of Cluj, the living conditions of those who work in the city but have low incomes are becoming more and more unbearable. The City Hall and the Department of Social and Medical Assistance subordinated to the Local Council of Cluj-Napoca have not developed a system to prevent evictions that leave the evicted without adequate alternative housing. Meanwhile, the Romanian state did not outlaw forced evictions either, and suspended evictions only during the state of emergency in order to protect the bailiffs from Covid-19. The social housing policy has been and remains disastrous as well. In Cluj-Napoca, the percentage of social housing in the total housing stock is below 1% and in the last three years there have been distributed less than 10 social housing units per year, while yearly there were over 350 requests submitted to the City Hall.
Furthermore, the City Hall of Cluj-Napoca did not fulfill anything from its Development Strategy 2014-2020 in this regard: it did not build any social housing, and did not develop and implement a concrete relocation plan from the polluted and segregated environment of Pata Rât in social housing from the city. Through a project made from Norwegian funds (with a budget of 4 million euros), the Association for Intercommunity Development Cluj Metropolitan Area facilitated the relocation of 10% of the total population of Pata Rât, so 21 families from the modular houses were moved and left empty about 8 housing units. Some of the families who had no place to live in the area, moved to these empty spaces without having a contract with the City Hall in order not to have to live in barracks built without permission and because they were constrained by the lack of housing alternatives.
The situation is of great urgency, especially from the point of view of the family mentioned above who received an eviction order on June 30, 2021, with the major risk of being evicted by forced execution 8 days after receiving this summons.
Write to the mayor Emil Boc and ask him to immediately stop these evictions, thus proving that he does not lie when he states rhetorically: We do not leave anyone behind. Write to the email address: registratura@primariaclujnapoca.ro, and/or call the phone number +40264-596030 requesting the mayor's office. Our call can be signed here.
Contact persons at Social Housing NOW!:
Enikő Vincze, +40740137561, eniko.vincze10@gmail.com
Nóra Ugron, +40747273412, nori.ugron@gmail.com "


Autor naslovne fotografije: Adrian Nemeti
Preporučite članak: